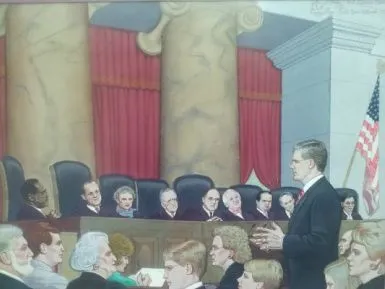 On November 2, 1993, Mr. Porter argued and won a landmark case before the United States Supreme Court. J.E.B. v. ALABAMA began as a paternity case in a Jackson County courtroom. Mr. Porter objected when the opposing attorney struck all the male jurors from the jury. He felt that an all female jury was inherently unfair to his male client. When his motion was denied, he appealed to higher and higher courts seeking justice for his client.
Eventually, Mr. Porter's case was accepted for review and a rare oral argument before the U.S. Supreme Court. A national media courtroom artist captured the moment above. Cameras are not allowed in the courtroom. Mr. Porter now practices law with Claire and Drew, two of his children shown in the lower right hand corner of the painting. The painting depicts his eldest son,parents, brother and wife as well. All appear in the foreground.
Less than 2% of cases submitted to the U.S. Supreme Court are accepted each year for consideration.
These cases have been argued and appealed through the local and state court systems to no avail and are finally submitted to the U.S. Supreme Court in the form of a highly complicated and heavily restricted written Brief format and are occasionally followed by oral argument before the Court if the Court allows.
The case submitted by Mr. Porter became a landmark case. A landmark case is one that creates new precedents that establish a significant new legal principal or concept, or otherwise substantially change the interpretation of existing law for the entire United States.
Click here or on the link below to hear Mr. Porter's argument before the Court as well as the verbal responses of the Justices. The recording quality does not accurately reflect Mr. Porter's voice, but the discourse between Mr. Porter and the various Justices is fascinating. Additionally, you can read the Brief submitted and written by Mr. Porter as well as the Final Order of the Justices which set new U.S. law for fairness in the jury selection process.

J.E.B. v. ALABAMA EX REL T.B.
Watch this site for future additional information regarding the preparatory events that led up to the argument and Mr. Porter's personal experience of argument before the highest Court in the land.